Apple Orchard Reopening for Weekends Only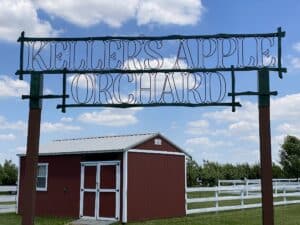 ORCHARD UPDATE: Our apple orchard will reopen Sat, October 3rd! It will be open on SATURDAYS AND SUNDAYS ONLY for now. We will sell 1/4 peck bags for those wishing to enter the orchard. No other bag sizes will be sold for the remainder of the season. Limited to one bag per person. Please follow all policies listed on Apples webpage.
Weather conditions this year resulted in a lighter crop. Because of this, we will be opening an assortment of varieties in the orchard for picking. Many of these varieties are unique, in small quantity, and not listed below. We are not listing which varieties we are offering since it will change frequently. Supply will depend on the amount of visitors throughout the weekend. We reserve the right to close the orchard for low apple supply, if needed. Sorry for the inconvenience. Nature is always in charge.