Our Flower Fields have ended for the year, but they will be back in 2023 – bigger and better than ever!
Check back here for information about the latest. Then make a plan to visit Keller's Flower Fields at our Oswego Farmstand in Summer!
Cut Flower Field
Our Cut Flower Field at Keller's Farmstand was new in 2022, only in Oswego – a place to stop and smell the flowers... or take photos of them, or just walk among them! You may even cut a bouquet of your choosing (for an additional fee) if you want to bring some of the Keller's flower magic back to your home! At our Cut Flower Field, you'll find two acres of:
Celosia
Cosmos
Gomphrena
Marigold
Snapdragon
Statice
Zinnia
Gladiolus
...and maybe more – you'll have to come out to see!
Please NOTE: What's available at the time you arrive depends on the blooming time of each individual variety. But we're pretty sure you'll love what you find!
Sunflower Field
The KELLER'S PICK YOUR OWN SUNFLOWER FIELD made its debut in the Summer of 2021 and will be back next year! Our 3 acres of sunflowers will produce lots and lots of blooms for you to enjoy, with lots of photo opportunities in the field, as well!
On August 20-21, THREE free blooms are included per ticket. Additional blooms are available for purchase in person at the field entrance. Credit/debit only for payment in fields.
Exact open dates and times are indicated below. Open dates subject to change – please check back for updated information!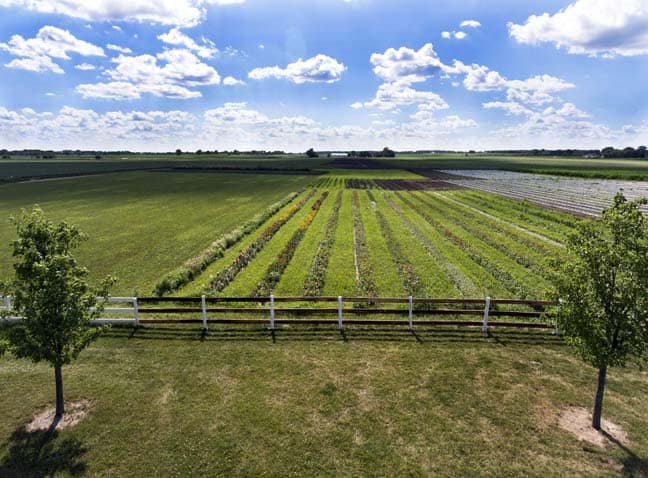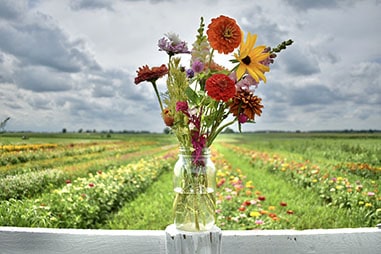 Keller's Flower Field Tickets and Reservation Times
Online tickets are available here.
Tickets grant you access to the Cut Flower Field, Sunflower Field, Keller's Summer Playground, PLUS one free sunflower bloom that you may pick yourself! (You may also purchase extra sunflowers as well as cut flower bouquets for an additional fee.)
We strongly recommend you purchase your tickets online to guarantee your entry – you may visit KellersFlowerFields.com to reserve!
However, tickets are also available at the ticket booth on a first-come, first-served basis.
Please note that ticket quantities at the ticket booth may be limited and are subject to a higher price.
The Farmstand will be open for those who might like to shop for produce, sweet corn, or specialty food items.
Refreshments will be available for purchase (soda, water, lemonade slushies).
We're sorry, but dogs and pets are NOT allowed at Keller's Farmstand.
*Children ages 4 and under are free, no ticket needed. Free blooms, however, are ONLY for paid ticket holders.

Tickets are non-refundable. If you need to reschedule your visit, please follow the instructions on your confirmation e-mail. If you did not create an account with our online ticket processor when you purchased your tickets, you will need to do so when rescheduling. When doing this, you must use the same e-mail address and contact info for the system to find your tickets!
There's one price for entrance to our Cut Flower Field PLUS Sunflower Field PLUS Keller's Summer Playground.
The online price is $16.99 (plus transaction fees). You may book your visit at KellersFlowerFields.com. The walk-up ticket-booth price is $19.99 per person, with a $2 discount given for seniors (65+) and military. This is for walk-up ticket purchases ONLY, when presenting appropriate and valid identification. (These discounts are not given for advance ticket purchases online.)
Additional sunflower blooms are $3 per bloom, or 6 for $15. Cut flower bouquet pricing is as follows:
$15 Pint Jar (approx. 15 stems)

$20 Quart Jar (approx. 20 stems)

$35 Metal Pitcher (approx. 30 stems)

$45 Metal Vase (approx. 40 stems)
You may bring your own scissors or cutting tool, but you may NOT bring your own vase, bucket, etc.
Keller's is conducting limited, timed entry for the Flower Fields. Last entry is one hour prior to closing of the fields.
OPEN DATES:
Saturday-Sunday, August 13-14: 9:30am-4:30pm (last ticket sold at 3:30)

Saturday-Sunday, August 20-21: 9:30am-4:30pm (last ticket sold at 3:30)

More dates may be added!
Check back here or at KellersFlowerFields.com for available dates and times!
The Farmstand will be open a bit later than the Flower Fields for those who might like to shop at the end of their visit for produce, sweet corn or specialty food items.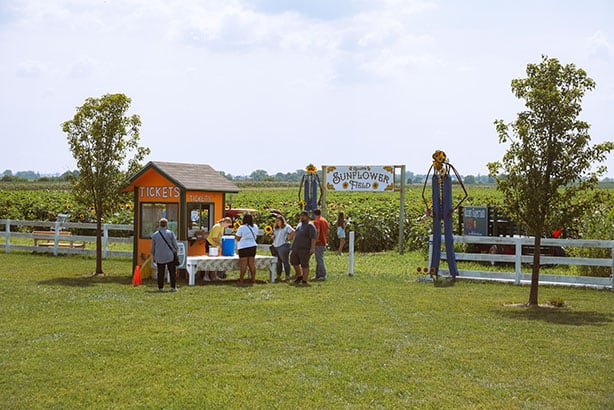 Helpful Hints For Your Visit
Please stay on the marked paths to enjoy our Flower Fields and preserve the experience for other guests. This is a summer activity in direct sun, so bring water and wear sun protection.
Remember to dress for the weather!  If it has rained recently, the field could be muddy or uneven. Wear appropriate footwear!
Strollers and wagons are permitted in the Flower Fields. However, the paths are not paved and may be uneven.
Pets and smoking are prohibited at Keller's Farmstand.
Along the paths, we have set up a few spots we think will offer a perfect backdrop for photos! Please snap your photos quickly when other guests are waiting. Be kind to our props please!
Keller's Flower Fields are open rain or shine – however, we reserve the right to limit the number of guests in the field for everyone's safety or temporarily close the field due to inclement weather.
You must supervise your children at all times.