Saturday & Sunday Fall Festivities
Join us for our Saturday & Sunday Fall Festivities this year, starting Saturday, September 10, and going through Sunday, October 30!
Bring your family and friends for some farm fun. Making memories together is what it's all about. Our 2022 corn maze is 8 acres of amaaaazing fun!  As always, our corn maze is family-friendly.
Reservations are for Fall Festivities/Farmland only. No reservations needed for Farmstand shopping, pumpkin picking or apple picking.
We utilize an online ticket reservation system to monitor the amount of people visiting our Fall Festivities, in order to make your visit as safe as possible. A TICKET IS NEEDED TO ENTER FALL FESTIVITIES/FARMLAND. After reading the essential information on this page, please click the link on this page to buy your tickets. Walk-up tickets are also available, for a slightly higher cost.  Please read our Safety Plan for updates.
Keller's Storytelling
Tianna Gawlak, author, book readings from children's book, "When You Dream of Apple Pie"*
- Saturday, September 24 @ 2pm; 30 minutes
- Saturday, October 1@ 2pm; 30 minutes
*Book readings do not require a Fall Festivities ticket
Professional actor and mime artist, Jen Buhrow, children's mime theater**
- Sunday, October 9 @ 11 AM, 12 Noon, 1pm, 2pm; 20 minute performances
- Sunday, October 16 @ 11 AM, 12 Noon, 1pm, 2pm; 20 minute performances
- Sunday, October 23 @ 11 AM, 12 Noon, 1pm, 2pm; 20 minute performances
– Saturday, October 22 @ 3pm (approximately): Special Appearance by Gus T. Bull of the Chicago Bulls' affiliate Windy City Bulls!
Special Halloween Weekend Performances of The Headless Horseman**
Professional Rider Juan Hueracha and his Show Horse Apollo
- October 29: 11:45am, 12:45pm, 1:45pm, 2:45pm, 3:45pm
- October 30: 11:45am, 12:45pm, 1:45pm, 2:45pm, 3:45pm
**Requires ticket to Keller's Fall Festivities. Click here to purchase!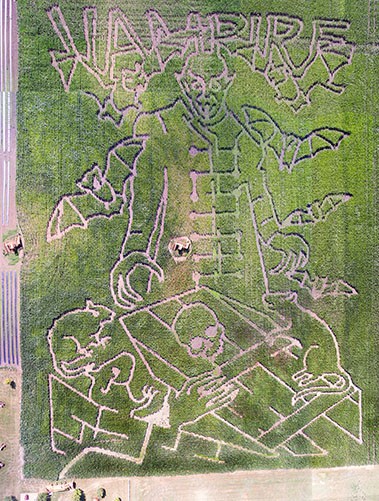 9am-6pm SATURDAYS & SUNDAYS ONLY September 10 - October 30, 2022 (plus Monday, October 10, also 9am-6pm) at our Oswego farm.
ADMISSION for activities is a $14 wristband per person (Age 5 - adult). Reserve in advance for a discount by clicking the "Buy Tickets" link on this page. Children 4 years and under are free and do not need a ticket. Children 12 and under MUST be accompanied by an adult with paid wristband/ticket. Discounted admission for senior citizens (65+) and military is $12, and is ONLY available to those purchasing tickets in person (please present ID at ticket booth). We kindly ask all guests to limit your visit to 2 hours to allow other families the opportunity to participate in our activities.
The Fall Festivities/Farmland wristband includes the following*:
8-acre corn maze with 2 observation decks
play house with slide
rope maze & brick maze
tire stack for climbing
old tractors for sitting and taking photos on
kids play area with pirate ship, castle, and Noah's ark
farm animals**
*Does NOT include apple picking
**Please note: we do not have a "petting zoo." Animals may come to you, but you are not always able to go to them. Not all animals may be available every day. Fewer animals will make an appearance on the opening weekend.
Don't leave the farm without riding on the free wagon ride!
The reveal of our 2022 corn maze is *** drum roll *** -- VAMPIRES!!! We'll have lots of fun photo-ops in the corn maze as well as checkpoints that offer interesting information about vampire lore.
Click to see an interactive map of our Fall Festivities grounds for 2022!
Helpful Hints For Your Visit
We are open rain or shine! Keller's Farmstand reserves the right to close outdoor activities due to inclement weather and reopen them when weather conditions are safe for visitors.
Please be respectful of our corn maze. Stay on paths and leave the corn on the stalks. Our dad will be harvesting the corn once the maze closes at the end of the season. Thanks!
Dress for the weather! If there is recent rain, wear old shoes or boots.
Typically our corn maze takes about an hour to complete. Kindly begin your corn maze adventure no later than 5:00pm since we close at 6:00pm.
Keep your pets at home. Thanks!
*If you get hungry while you are visiting us, we offer many concession stand items to choose from -- APPLE CIDER DONUTS, gourmet popcorn, hot dogs, chips, hot pretzels, nachos, hot & cold drinks, and fudge! NO OUTSIDE FOOD, DRINKS, OR COOLERS ALLOWED.
For everyone's safety, NO SMOKING or e-cigarettes allowed! You are welcome to smoke in your car.
The pumpkin patch register (near the corn maze for customers who pick pumpkins off the vine) is credit/debit only. Customers who want to pay cash may do so in the Farmstand.
Library Coupons:
During the summer, I earned a free Fall Festivities activity wristband coupon from my local library. How do I use it?
No reservation is needed for a library coupon. Simply present the library coupon to the cashier at the ticket booth. If we are not at full capacity, we will hand you a free activity wristband. We are only accepting coupons issued during the current year.