What does fall taste like? It tastes like homemade apple cider donuts from Keller's Farmstand! We start making our delicious apple cider donuts when our apple orchard opens, typically in late August. They are made on Saturdays and Sundays on-site in our Oswego Farmstand located on our Oswego farm. Our donuts are sold at our Oswego Farmstand and occasionally at our Naperville Farmstand. Donuts are not always ready by 9am. Call first for availability. We know after one bite, you'll say they are the best apple cider donuts you've ever eaten!
Our apple cider donuts, as well as our other flavors (including iced pumpkin donuts), are sold in half-dozens only. Specialty flavors vary by the week.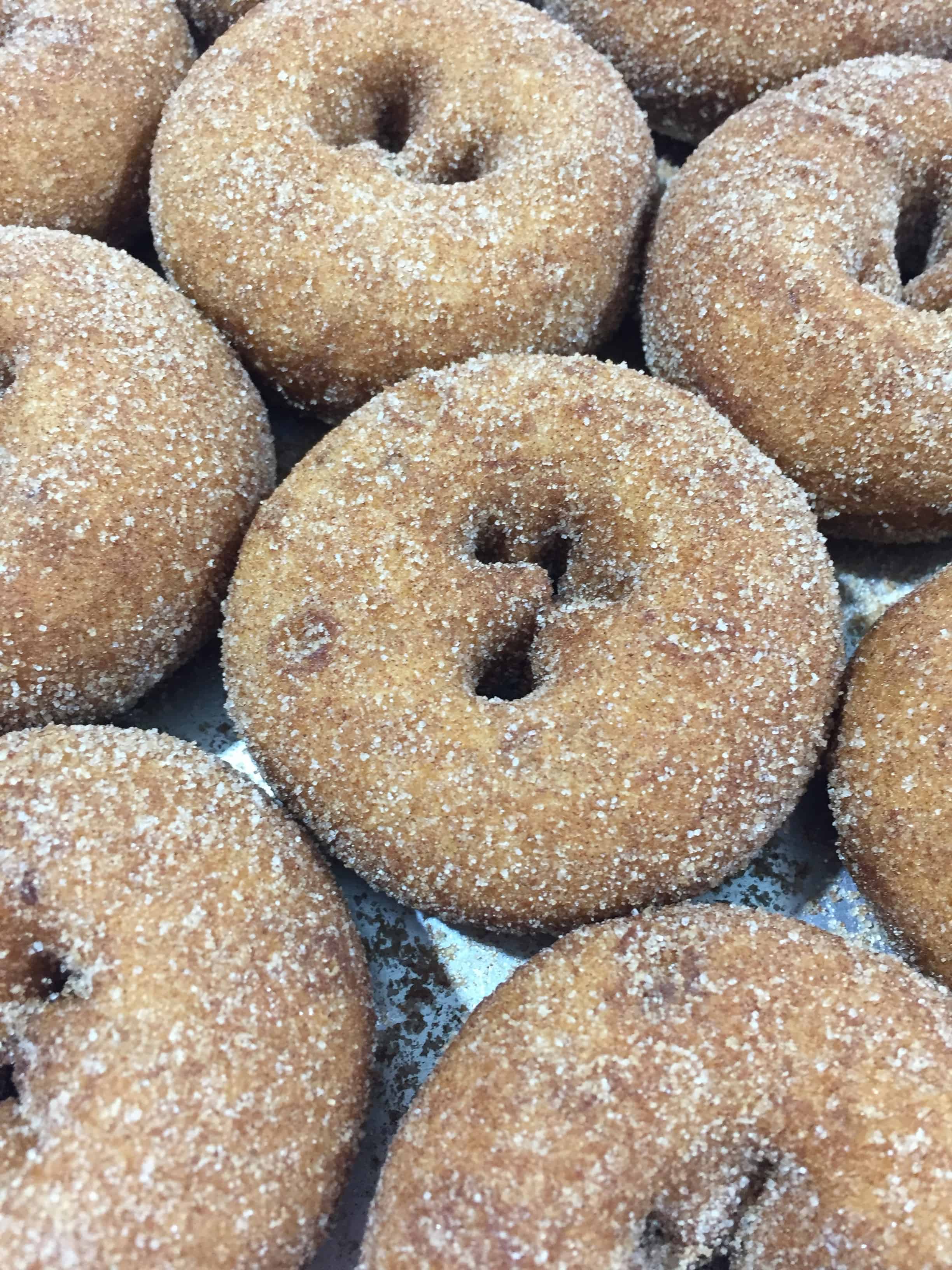 Do our donuts freeze well?
Yes, they freeze well! We suggest placing them in a sealable plastic bag. Double-bagging will reduce risk of freezer burn. Reheating: Remove donuts from plastic shell. Place on a microwave-safe plate. Microwave on HIGH. Microwaves can vary so please check donuts throughout reheating process. One donut - 7 to 10 seconds, 1/2 dozen - 1 minute & 15 seconds, one dozen - 2 minutes & 30 seconds. Our donuts taste great on cold, winter mornings so plan ahead by freezing them in the fall!
Be sure to check our social media for current donut flavors and availability!
We regret that we will not be able to offer pre-ordered donuts this year for weddings, church, school, corporate or special events. We do hope to offer pre-ordered donuts again in 2022! 
For our Saturday & Sunday Fall Festivities on our Oswego farm, we offer a variety of treats in our concession stands to satisfy your hunger and thirst - apple cider slushies, gourmet popcorn, hot dogs, chips, nachos, hot pretzels, fudge, and hot & cold beverages. NO OUTSIDE FOOD, DRINKS, OR COOLERS ALLOWED.
How do I freeze your delicious fudge? 
1. Put fudge container in an airtight freezer bag.
2. Place in the freezer.
3. Thaw and enjoy when you crave it!