It's the Great Local Pumpkin Patch, Oswego! Open through October!
Few things feel more like fall than a sprawling patch of big pumpkins. We've been growing pumpkins since the 1800s, when our ancestors fed their livestock with them for their high potassium and vitamin A.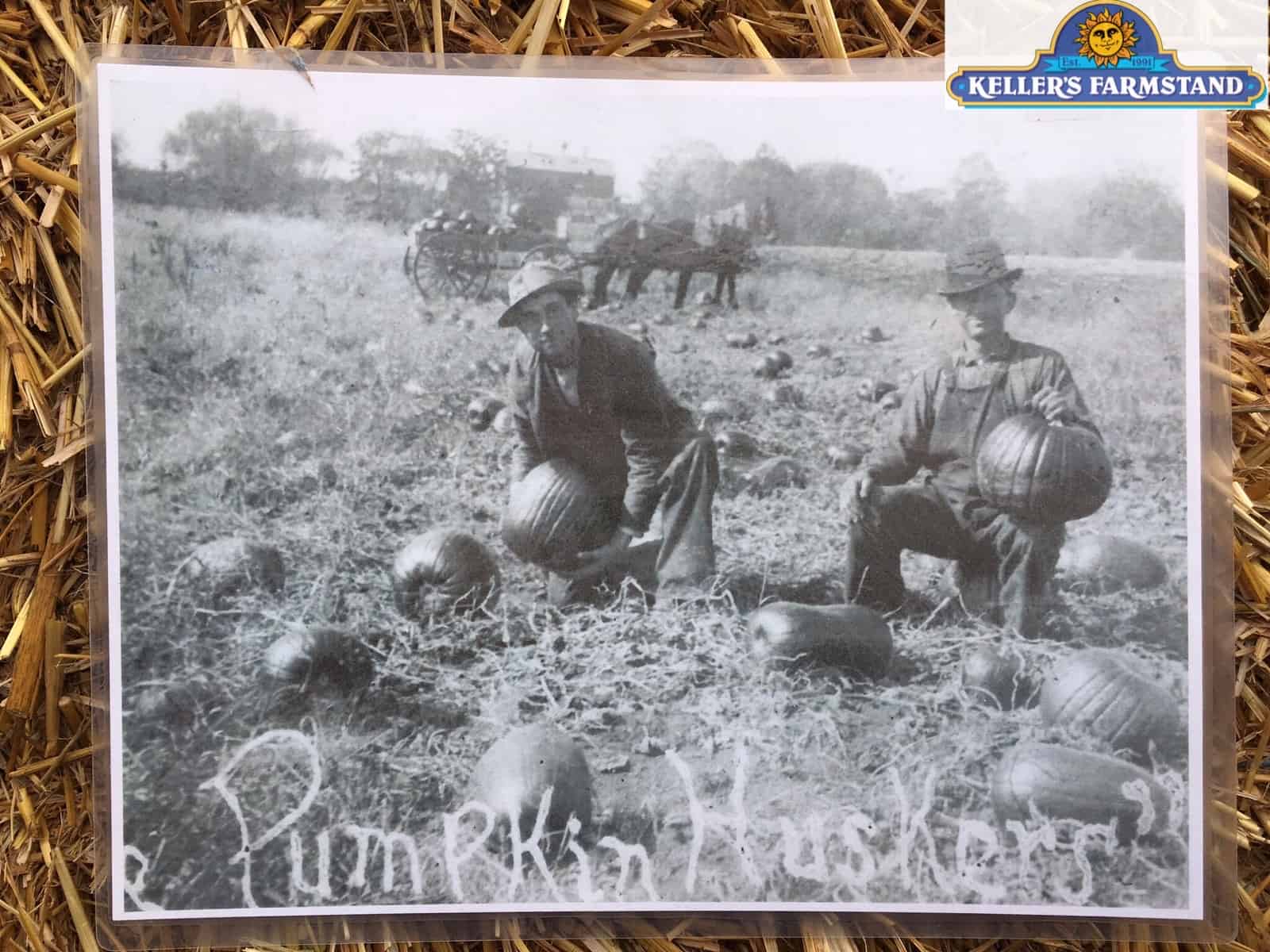 To make sure your pumpkin-picking is ready for the season, we plant our seeds at the end of May. After a good rain, small pumpkin plants soon become visible. By mid-July, lush orange pumpkin flowers are beginning to blossom.
Next, our resident honeybees as well as wild bees pollinate the flowers. When they leave the pumpkin patch, their bodies are coated with the orange pollen, making them look like flying Cheetos!
Once the pumpkins start growing, most are green. They then ripen into a vibrant orange. Because we produce a variety of pumpkins, ours have differing colors, shapes and sizes. This offers you a lot of choices for carving an original jack 'o lantern.
NEW for 2023: Storytelling through Pumpkin Carving
We have a special guest appearance this year by an extraordinary pumpkin carver! Marc Solomon will be on the farm to demonstrate how to carve GIGANTIC pumpkins! This is pumpkin carving by a Michelangelo! Marc will be carving his personal design renditions of cryptids, from our 2023 corn maze theme!
If you've ever wondered how the best pumpkin carvings are made, then this is the day to come to the farm! You do not need a Fall Festivities ticket to enjoy this great event! Find Marc in the Pre-Picked Pumpkin Patch on the following dates:
Saturday, September 30, from 11am to 1pm (carving theme: Loch Ness Monster)
Sunday, October 8, from 11am to 1pm (carving theme: Mothman)
Pumpkin Picking Hours - Open now through October!
Open through October!
Weekdays, 10am to 6pm
Weekends, 9am to 6pm
*No reservations needed
The pumpkin patch is at our Oswego farm only.
At our huge Oswego pumpkin patch, you have your choice of the right size for you—small, medium or large — and the pumpkin you take home will have part of the vine still attached, giving it that fresh-from-the-field look you just can't find at a store. 
We do not charge a fee to enter the patch. Just grab a wheelbarrow and head out! Please arrive at least 30 minutes before closing time to allow enough time for picking. Pay for the U-pick and prepicked pumpkins in our Farmstand. On weekends, our pumpkin patch register will be open. It is located near the corn maze for customers who pick their pumpkins off the vine. This register is credit/debit only. Customers who want to pay cash may do so in the Farmstand.
Pumpkin Picking
We're picky about picking, so we inspect and select each pumpkin by hand. We know better than machines do which ones are the most worthy for sharing with you!
U-pick and prepicked pumpkin prices: 
$3 each - pie pumpkins
$8 each - all other pumpkins, including specialty pumpkins
You must pay for your U-pick pumpkins with credit/debit! No cash allowed at the U-pick pumpkin stand in the field.
You may purchase our prepicked pumpkins at any of our local farmstands:
Oswego Farmstand
Naperville Farmstand
Pumpkin Picking Tip
As you're roaming around our huge U-pick pumpkin patch, look for pumpkins with a hard stem and no soft spots. Tap the pumpkin gently with your hand – if you hear a thud, it's ready for picking! Pumpkins in our prepicked pumpkin patch should already pass the test!
Please note: Pets and any form of smoking, including e-cigarettes, are prohibited in the patch. You are welcome to smoke in your car.
Connect with us on Facebook, Twitter and Instagram to keep current with our pumpkin patch updates throughout the season.
Get our special pumpkin and pumpkin seed recipes on Pinterest too! Here's one of our favorites to get you started:
Pumpkin Facts
Thanks to its large pumpkin-processing facility, Morton, Illinois, is the pumpkin capital of the world.
Pumpkins are 90% water, so they like dry conditions!
Roasted Spiced Pumpkin Seeds
1 ½ tablespoons melted margarine
1/2 teaspoon salt
1/8 teaspoon garlic salt
2 teaspoons Worcestershire sauce
2 cups raw whole pumpkin seeds
1. Remove seeds from pumpkin and rinse them.
2. Spread seeds out on a jelly roll pan to dry them completely.
3. Preheat oven to 275°.
4. Combine margarine, salt, garlic salt, Worcestershire sauce and pumpkin seeds.
5. Mix thoroughly and place in a shallow baking dish.
6. Bake for one hour, stirring occasionally. Makes 2 cups.