Keller's is in Full Bloom!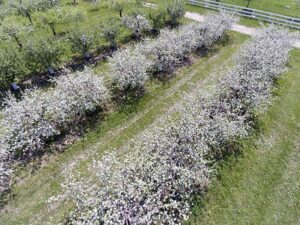 Blooms, blooms and more blooms! We have flowers with beautiful blooms for you to add to your garden for season-long color! Come to our Oswego or Naperville Farmstands for groundcover, annuals, perennials (and even veggies!) – all of which can add carpets and cascades of color to your in-ground and container gardens. Annuals like Royal Velvet Supertunias, Lemon Nemesia and Diamond Frost mix beautifully with locally grown day lillies, Russian sage, lavender and coral bells. At Keller's, we are all about the flowers in May! (Even our apple trees are in bloom right now!)
But with so many flowers, what should you choose? Well stop by and ask our expert staff — they'll point you in the right direction for creating a garden with maximum color and minimum maintenance!