Oswego Reopening with Curbside Pickup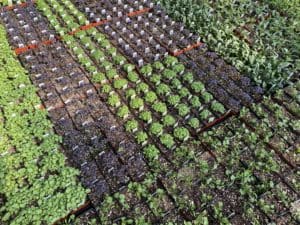 Due to COVID-19, we are following the State of Illinois executive order for gardening centers — curbside pickup only. This is a major change in the way we sell our plants as well as a change in the way you shop. For now, we will only reopen our Oswego location for curbside pickup and keep our Naperville location closed.  We are in the process of updating our website to include lists and photos of our spring inventory. You will be able to PREORDER your online Wish List so we can gather the items in advance for easy pickup OR you can use our upcoming online inventory to make your own list and bring it to our Oswego Farmstand for us to fill while you wait in your car. At this time, here is what we're planning. These details may change.
Oswego location only for now – 2500 Johnson Rd.
Open daily 9-3pm starting May 1
Flowers, hanging baskets, mixed planters, vegetable & herb plants
Payment due at time of pickup
We will load purchases into your vehicle for you. You must remain in your vehicle at all times.
No perennials at this time
We are excited to be able to provide high-quality flowers and plants once again! Check our website and social media platforms for updates. See you soon!