Oven-Roasted Butternut Squash Recipe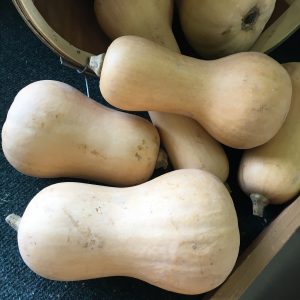 Oven-roasted butternut squash is what fall would taste like if fall had a taste. We sell butternut squash in all of our farmstands so stop in and stock up!
Ingredients:
2 pounds Keller's butternut squash, peeled, cut in half, seeds scooped out and discarded, cut into 1-inch pieces
1 1/2 tablespoons extra-virgin olive oil
1 teaspoon kosher salt
1 teaspoon dried thyme leaves, crumbled
1/2 teaspoon fresh ground black pepper
Smoked paprika (Do NOT substitute any other kind of paprika! Smoked paprika MAKES the recipe!)
Directions:
Position the oven rack in the oven's middle position and begin heating the oven to 425 degrees. For easy cleanup, line a heavy-duty rimmed baking sheet with foil. Set aside.
Add olive oil, salt, thyme, and pepper to a large mixing bowl. Add prepared butternut squash and stir and toss until completely coated with oil and seasonings.
Turn butternut squash out onto the baking sheet and arrange evenly so they are not touching. Dust with paprika. Place in oven and roast for 15 minutes. Carefully remove the pan from the oven and with a plastic spatula, flip the squash pieces over. Return the pan to the oven and roast another 10-15 minutes, or until golden brown in spots and easily pierced with a fork. Serve immediately. Serves four.