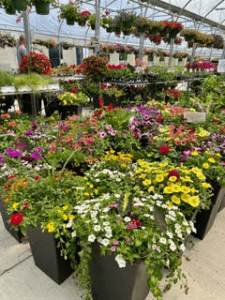 Oh. My. Goodness. This spring has flown by! The last day to purchase beautiful flowers and lush, hardy vegetable and spring plants at our Oswego Farmstand is Sunday, May 21. Hanging baskets, the Flower Face-Off annuals, ground-cover plants, herb and vegetable plants – all available this weekend at the Oswego and Naperville locations.
It's also a perfect time to stock up on our Farmstand condiments – just in time for the Memorial Day weekend and summer grilling season. Our Naperville Farmstand remains open (even 9-3 on Memorial Day) and has beautiful gardening options for you to choose from. So many plants to enhance your gardens – but please stop by early and often for the best selections!
Oswego will be open 10-5 on May 19 and 9-5 on May 20-21. Our Naperville location at 516 Knoch Knolls Road is open 10-5 during the week and 9-5 on the weekend.
See you soon!