Thankful, Grateful, and Blessed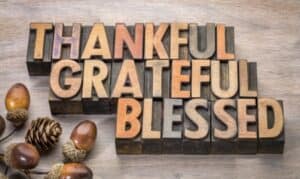 Why are we thankful, grateful, and blessed?
Because of you.
What a, let's just say, "challenging" year it has been. Because of the pandemic, we made lots of changes to our business. Throughout the seasons, we switched gears when needed, in order to handle things out of our control. Not easy to say the least. What did you do? You chose to support our small family business.
You bought flower, vegetable, and herb plants that we grew in the spring.
You bought our farm-fresh sweet corn as well as our other vegetables in the summer.
You brought your family to our farm for our Fall Festivities.
You picked apples off our trees or bought prepicked apple bags.
You picked your pumpkins off the vine in our patch or chose one that we had picked.
You even indulged yourself by purchasing our homemade donuts, fudge, and popcorn, too.
You didn't have to but you did. You decided to buy local and support the farmers behind this website. For that, we are truly thankful, grateful, and blessed.
Please consider supporting small, local businesses this holiday season. They are the backbone of a sturdy community and they need you now. We hope to see you when we reopen in the spring! (We did not create the photo. Photo credit to whoever did though!)