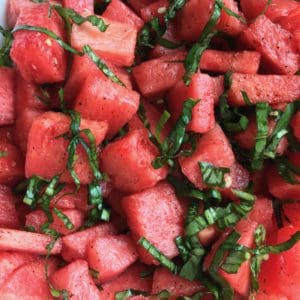 Labor Day is only days away! This Watermelon Basil Salad tastes refreshing and is perfect for a Labor Day picnic. It doesn't hurt that it's incredibly easy to throw together, too. Stop in for a watermelon and other picnic necessities at one of our farmstands!
Ingredients:
1/4 cup basil leaves
4 cups 1/2-inch watermelon cubes
2 teaspoons fresh lemon juice
1/4 teaspoon kosher salt
1/4 teaspoon chili powder
Directions:
Stack basil leaves on top of each other and roll tightly into a log. Slice lengthwise into thin ribbons.
Combine basil and watermelon in a large bowl.
Drizzle lemon juice over watermelon.
Mix salt and chili powder in a small bowl. Sprinkle over watermelon and toss to combine.
Chill salad for 1 hour before serving. Dig in!