Working in the Greenhouse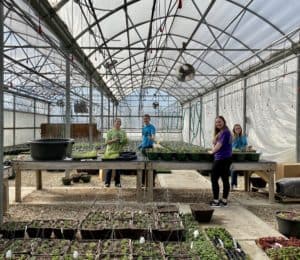 What changes have we made in the greenhouse amidst the COVID-19 outbreak? First and foremost, our focus has been the safety of our employees. To enforce social distancing, we have asked our non-Keller staff to stay home.
Martha, our sister, always takes charge in the greenhouse and continues to do so now. She's in the photo along with Frank & Teresia's (Keller's Farmstand owners) 3 kids. Not only are they participating in e-learning while being home from school but also g-learning (greenhouse, that is). They're no strangers to working in the greenhouse and planting though!