Saturday & Sunday Fall Festivities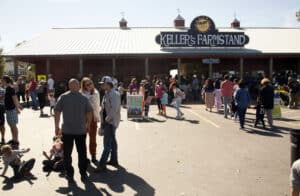 The seasons are a-changin'!
Whether official or unofficial, fall is here! And that means that our weekend Falls Festivities are BA-AACK at Keller's Farmstand in Oswego!
Traditional favorites – including our VAMPIRE-themed corn maze, play house with slippery slide, rope and brick mazes, the tire stacks, friendly farm animals – are back. And we have exciting new attractions for you this year!
Like mime? You'll love our interactive mime performances! We also have storytelling with acclaimed children's author, Tianna Gawlak. The final weekend brings a visitor in search of his head – The Headless Horseman, with his black stallion Apollo!
And don't forget the apple orchard, the pumpkin patches, fresh produce, and fall garden decor!
Keller's Farmstand – we're always growing for you!