Let the 2022 Apple Adventures Begin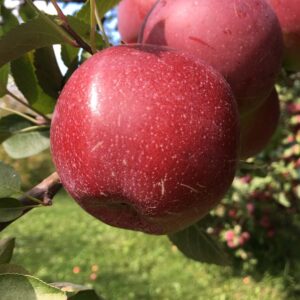 Keller's Apple Orchard Opens for the Season on Saturday, August 20!
What's zesty and pristine and so-oooo proud to make an appearance?!? Keller's Farmstand APPLES! Our 2022 apple season opens on Saturday, August 20 at our Oswego location, with U-pick Zestar and pre-picked Pristine and Williams Pride apples in the Farmstand. (There may be more available when we open.)
The sweet and tart red Zestar apple is great for baking, sauces, and of course – snacking! It's a great start to our apple season – with even more juicy, crisp, sweet, and tart varieties to come.  Reservations are not needed to pick our apples, but all guests must purchase a U-pick bag at the Apple Barn before heading to the orchard (choose from three sizes). 
Crisp, juicy, sweet, and tart apples – sometimes all at the same time! We're sure you won't be able to choose just one as your favorite. Our apples ripen at different times – beginning in August and continuing through October – so you can come back again and again to pick farm-fresh apples from our family farm. Visit https://kellersfarmstand.com/apple-orchard/ for information on ALL of our apple varieties and when they are available. 
No matter what weekends you visit, you will discover apples that are just right for you and your family. Come back often, pick new favorite apples every time you visit, and enjoy! We love welcoming our guests!