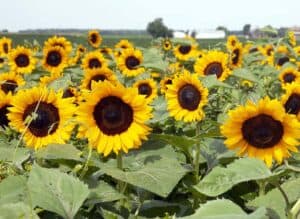 Today has been a wet day in the Flower Fields! While our flowers are very happy, some of our customers have called to ask about rescheduling. While we are happy to help with this (the best way is to send an email to info@kellersfarmstand.com with your request) – an even BETTER way is to reschedule yourself!
Just open the confirmation email you received when you purchased your tickets. Look for the link at the bottom of the email about rescheduling your reservation time. Click on this and it will take you to our online ticket provider's website. Click on the link to change your reservation time. If you did not create an account with them when you purchased your tickets, you will need to do so to reschedule – this is how the system can find and track your original order. You must create your account with the same email and contact info you used when making your original purchase! Once this is done, you will be directed to a screen that allows you to select any of the future dates that are open for our Flower Fields. NOTE: The blooming time of the sunflowers will determine if additional dates will be added.
If you have any questions, please e-mail us at info@kellersfarmstand.com. Thank you!