Fall Fun Alert! Long Weekend Ahead!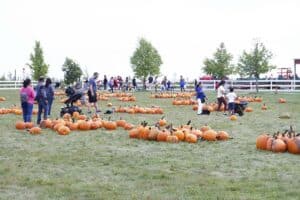 Are your schools closed on Friday? Yea! Keller's Farmstand Oswego wants to help with your four-day weekend. 
On Friday, October 7, our Oswego Farmstand is open from 10am to 6pm for U-pick apples in our apple orchard and U-pick and pre-picked pumpkins!  Love apples but don't want to pick 'em? Both our Oswego and Naperville Farmstand will be open with pre-picked apples, local honey, apple cider, specialty butters, jams, jellies and so much more! Yum! Everything you need for a delicious weekend! No reservations needed. 
On Saturday, Sunday and Monday (October 8, 9 & 10) – our Oswego location is open from 9am to 6pm with even MORE fall fun! Our apple orchard is open, you can still pick pumpkins… and you can also enjoy our Fall Festivities! Your paid ticket to Fall Festivities includes our vampire-theme corn maze (complete with photo ops for spooktacular memories), farm animals (including month-old baby goats!), a farmer's boot camp, a three-acre Farmland play area, mime performances, and more – all for the price of one ticket! Reservations are highly recommended, so click here to make a reservation for genuine fall fun at an authentic, working family farm!
Keller's Farmstand – get your farm on!