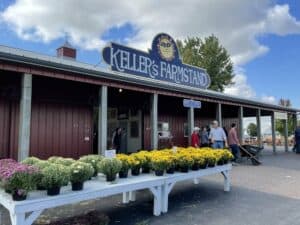 We were so touched by the review given to us from Oswego customer Victoria this month that we simply had to share it. Thank you for visiting Keller's!
"I was so impressed with this cute little apple orchard/farm stand and will definitely make this a yearly tradition in the future!
"The apple picking is more affordable than other orchards. Usually each member of the party needs to purchase their own apple bag, which can get very expensive. At Keller's, they offer 1/4 peck bags (approx 7 apples) for $9 a person, which was the perfect amount of apples/pricing for our group.
I do have to say, that on the Sunday we went at the beginning of October, a lot of the good apples left were higher up on the trees, which made it slightly more difficult to pick them as a shorter person, but I still left with a good bag full.
"The fresh apple cider donuts and cold apple cider were DELICIOUS! Honestly might have been the best cider donuts I've ever had in my life!
"Other food options are available, most people ordered from the hot dog stand on site, which sold affordably priced hot dogs ($4), lays chips, and soda pop.
"There is a play area primarily for children with a corn maze and other play structures, which you can access for an extra $14 per person. I liked how this was a separate area so that the adults could choose whether they wanted to pay extra for access to this part of the farm.
"They have a cute pumpkin farm which is open to the general public, with several different areas for photo ops, including a scarecrow with a pumpkin head, etc.
"Plentiful free parking and lots of picnic tables to relax with your family and friends and enjoy the cider donuts and drinks!"
Thank you again, Victoria – your response to visiting our Oswego Farmstand this fall is why we do what we do – and why the next generation of Kellers is already planning to continue the tradition. All of us at Keller's Farmstand hope your visit is the start of a long tradition for you and your family!