Job Opening – Bakery Help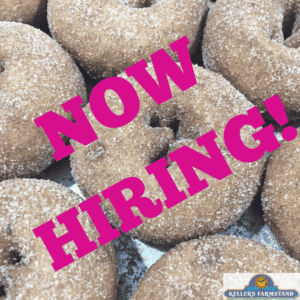 Looking for a part-time job? We are looking for help in our Oswego Farmstand Bakery!
Job description:
Help in our bakery with making our delicious donuts and cleaning up afterwards

 

August through end of October
Must be able to stand for long periods of time
Minimum wage
Weekends and/or weekday mornings and afternoons – perfect for parents of school-aged kids, hours may be flexible
Only those serious about donuts need apply since you will smell like donuts after your shift!
If interested, please stop at the Oswego, Plainfield, or Naperville Farmstand to pick up an application. You can also email us at info@kellersfarmstand.com and we'll email an application to you. All completed applications MUST BE RETURNED IN PERSON to the Oswego Farmstand. You will be contacted if we choose to set up an interview. Please write legibly on application.