Job Openings for Fall Festivities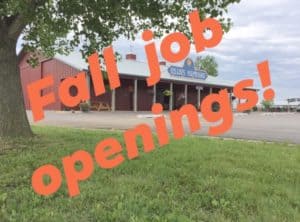 Join our team for the Oswego Farm Fall Festivities! We have part-time positions available in many areas of the farm.
Saturdays, Sundays, & Columbus Day from Sept 7- Oct 27
Weekend Fall Festivities are open 9am-6pm. Actual work shifts may vary from 8:30am-6:30pm
Must be at least 16 yrs old, adults welcome
Minimum wage pay scale
Will be outdoors, must be able to walk and stand all day
Outgoing, talkative, and cheerful personalities
Jobs include the following: Concessions, Ticket Booth, Corn Maze, Apple Orchard, Pumpkin Patch, Animal Barn, Playground
If interested, please stop at the Oswego, Plainfield, or Naperville Farmstand to pick up an application. You can also email us at info@kellersfarmstand.com and we'll email an application to you. All completed applications MUST BE RETURNED IN PERSON to Oswego, Plainfield, or Naperville Farmstand. You will be contacted if we choose to set up an interview. Please write legibly on application.