Keller's Baked Pears (or Apples) with Cinnamon & Honey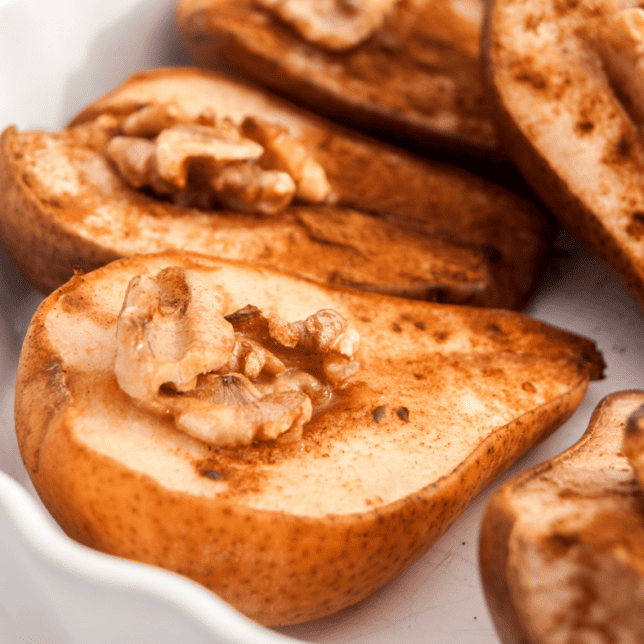 Many thanks to our longtime Farmstand team member, Kellie Dietz, for sharing her recipe with us!
• 4 Keller's Farmstand medium pears or apples
• 3 tbsp. Keller's Farmstand honey
• 2 tbsp. coconut oil or butter
• ½ tsp. cinnamon
• ½ tsp. vanilla extract
• Pre heat oven to 400 degrees F
• Peel the pears with a vegetable peeler. Cut the ends off and then cut the pears in half. Scoop out the core gently.
• Place them face down on a baking sheet or in a 9" x 13" glass-baking dish.
• In a small bowl, combine the honey, cinnamon, coconut oil (or butter) and vanilla extract. Heat in the microwave for 30 seconds. Stir to combine well.
• Spoon ½ – ¾ of the sauce over the pears.
• Bake for 30 minutes until soft and turning brown.
• Remove from oven and let sit for 5 minutes.
• Spoon additional sauce over each pear before serving. Good served with ice cream!

Posted in Apples
Tags: autumn crisp, cortland, crispin, desserts, fall, fuji, gala, ginger gold, golden delicious, golden supreme, granny smith, honey, idared, jonastar, jonathan, mcintosh, pears, zestar