Keller's Healthy 'n Skinny Skillet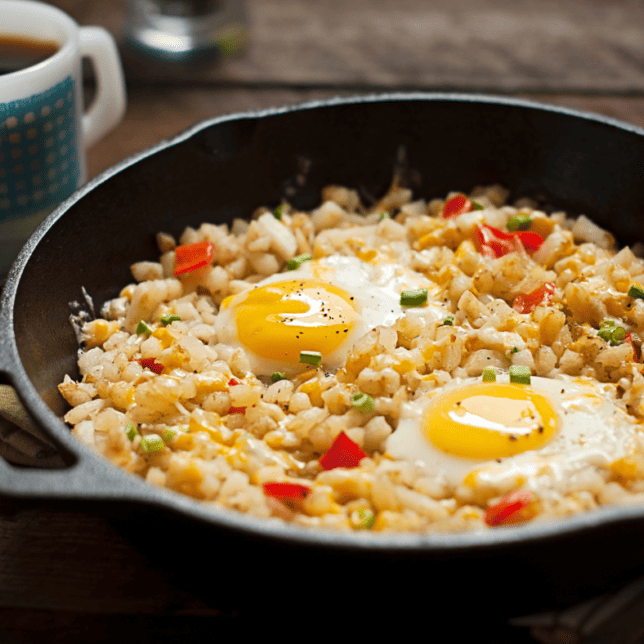 Many thanks to Martha Abel for sharing her recipe with us! This is one of her favorites!
Cooking spray
Medium Keller's Farmstand Poblano pepper, seeded and finely chopped
1 C. Keller's Farmstand sweet corn kernels (fresh)
½ C. Keller's Farmstand onion
1 C. canned, no-salt-added black beans, drained
1 C. Keller's Farmstand zucchini, sliced and finely chopped ½ C.
1 tsp. ground cumin
Pinch of Kosher salt
Keller's Farmstand green salsa verde (Make sure you buy extra to have enough on hand!)
4 large eggs
2 tbsp. chopped cilantro
• Coat a 12-inch nonstick skillet with cooking spray and heat over medium-high.
• Add the Poblano pepper, corn, and onion. Cook until the onion is soft, 5 – 7 minutes, stirring often.
• Add the beans, zucchini, cumin, salt. Cook until the zucchini starts to brown, about 2 minutes, stirring often.
• Stir in salsa.
• Make 4 "wells" or "crater" in the vegetable mixture; add 1 egg to each well.
• Reduce heat to medium.
• Cook, covered, until the eggs are cooked to desired doneness (5 – 7 minutes for medium).
• Garnish with the cilantro. If desired, serve with additional salsa, to your taste.