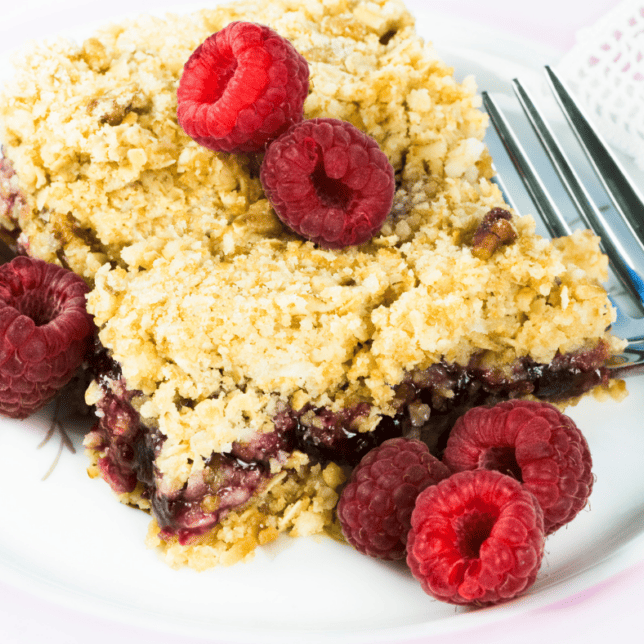 Many thanks to our longtime Farmstand team member, Kellie Dietz, for sharing her recipe with us!
• 12 tbsp. (1 ½ sticks) cold unsalted butter, cut into 1/2-inch pieces
• 1 ½ C. all-purpose flour
• 1 ½ C. old-fashioned rolled oats
• ¼ C. powdered sugar
• ¾ C. firmly packed light brown sugar
• ½ tsp. ground cinnamon
• 1 C. Keller's Farmstand Amish apricot or other seedless fruit jam (Buy one of each variety to make this yummy recipe over and over again!)
• Preheat oven to 325 F
• Prep a 9" square baking pan by lining it with parchment paper or aluminum foil to create a sling for easy removal. Butter or spray the lining.
• In a food processor, combine the flour, oats, powdered sugar, brown sugar, and cinnamon. Add the butter pieces and pulse until the mixture forms fine crumbs.
• Remove 2 C. of the flour mixture and set aside. Place rest of mixture in the baking pan and press it down to form the bottom crust.
• Spread the jam over the crust An offset spatula works great for this task.
• Squeeze the reserved mixture in your hands to form small clumps and sprinkle evenly over the jam.
• Bake until the edges are lightly browned and the jam filling is just beginning to bubble, about 30 minutes. Transfer the pan to a wire rack and let cool completely.
• Lift the bars from the pan by pulling the parchment or foil sling. Cut squares on a cutting board and enjoy!