Mom's Chocolate Zucchini Cake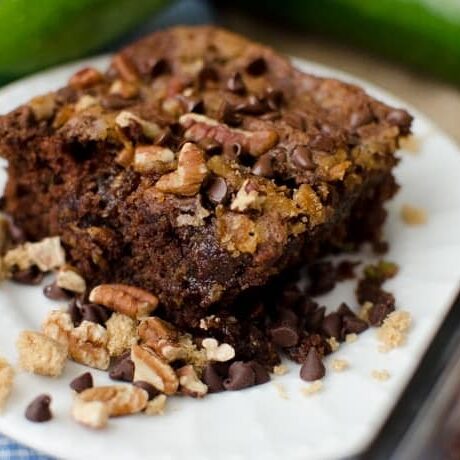 Oh Mom!! Mother! I guess you really do know best! Try this sneaky – and delicious! – way to get the kids to eat veggies. Our Mom did it all the time with Chocolate Zucchini Cake. PS - You can't taste the zucchini...It just adds moisture! (Pro tip - make SURE you peel the fresh-from-the-farm zucchini from Keller's!) Enjoy this yummy recipe and pass another piece!
●  ½ C margarine or butter (1 stick), room temperature
●  1 ¾ Cups sugar
●  ½ Coil
●  2 eggs
●  1 tsp pure vanilla extract
●  ½ C buttermilk or sour milk (1⁄2 C milk + 1 tsp white vinegar = sour milk)
●  2 ½ Cups flour
●  4 Tbsp cocoa powder
●  1 tsp baking soda
●  ½ tsp cinnamon
●  ½ tsp salt
●  2 Cups grated zucchini (about 2 medium-sized zucchini), peeled and drained
●  12 oz. semi-sweet chocolate chips
●  ½ C chopped pecans or walnuts
Preheat oven to 325° (for a glass pan) or 350° (for a metal pan).
In a mixing bowl, cream together the room temperature margarine/butter and sugar.
Add the oil, eggs, vanilla and buttermilk/sour milk and mix well.
In a small bowl, combine the flour, cocoa, baking soda, cinnamon and salt.
Gradually add to the wet ingredients and mix well.
Fold in the zucchini.
Pour into a greased and floured 9×13 pan.
Sprinkle the chocolate chips and nuts over the top of the cake.