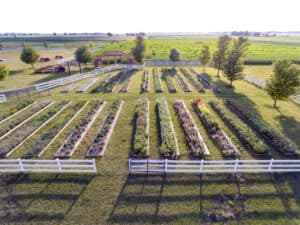 And We're Baaaaaaaa-ck...
...with farm fresh tomatoes, zucchini, cucumbers, yellow squash, jalapeños, bell peppers, sweet potatoes, muskmelons, seedless watermelon, and red, white, and yellow onions - and more! All three locations - Naperville, Plainfield, Oswego - are open daily. Supply at each of the farmstands may vary.
Sweet corn will be ready any day now (Mother Nature is making it very interesting). We check our sweet corn fields Every. Single. Morning! You have our commitment that we will pick no corn before its time!
For the second summer in a row, our Cut Flower Field is open for your enjoyment at the Oswego Farmstand! Cosmos and Dahlias and Zinnias - oh my! Wander and wonder at these beautiful flowers...and then cut your very own bouquet! Click here for more information about the Cut Flower Field.