RECAP: Floral Face-Off 2023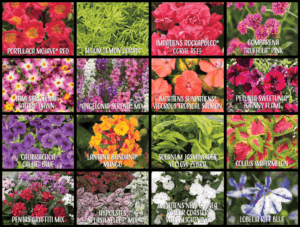 It's been an amazing Floral Face-Off contest this year! So many tight races and difficult choices — but all of it such fun! It began in early March and, in the end, Impatiens Rockapulco Coral Reef emerged on top, in a heated final battle with Lantana Bandana Mango! Final tally: 112 to 104. And the excitement continues, because we had a lot of you following along and voting throughout the contest — many of you participating with your own brackets. There were a couple of players who correctly guessed the winning flower – but one clear winner of our contest, who had the most Floral Face-Off matches correct, along with the winner. And that's — insert drum roll here — C. Tuma!
Check out the final bracket showing all the Face-Offs in the contest, plus a grid of photos of all flowers by clicking here!
But everyone wins, really, because all of these amazing plants are available to buy from Keller's and put in your own garden this spring! Our Naperville Farmstand opens TODAY (April 27), and our Oswego Farmstand opens TOMORROW (April 28) – so stop by and ask our knowledgeable staff to show you the Floral Face-Off contestants!
But wait – there's more! SO MANY MORE FLOWERS, that is, that we didn't have room for in the competition this year! To help introduce you to all the great options you might like, we created a page of additional favorites that are similar to others in the Floral Face-Off competition. To see all those selections, click here!
And if you're sorry you missed all the fun, then never fear — you only have to wait 318 days before we'll do it all over again, for Floral Face-Off 2024!!!¨