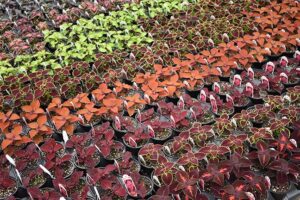 Wait – the Cubbies and White Sox have already opened their seasons! But the REAL Opening Days are when we open the Farmstands! Our Naperville Farmstand opens on Thursday, April 27, and our Oswego Farmstand opens on Friday, April 28! We can't wait! 
Keller's garden elves have been busy busy busy nurturing the delicate blooms of colorful annuals, perennials, and vegetable plants for you!  Wherever your gardens grow – the patio, the back 40 (acres!), around your trees, on the sides of your home – Keller's Farmstand will have options that will keep you in blooms throughout the growing season. 
Not sure what to grow? The elves – er-rrrrr, Keller's experts – will work with you to select the best for your specific garden. 
Pro tip – follow the last two weeks of Floral Face-Off 2023 for a sneak peak of new blooms and returning favorites. Visit our website every Monday through our Farmstand Opening Days to see whether Johnny Flame or White Lightning or Bandana Mango survived the Face-Off. It's a great way to jumpstart your spring gardening plans!
See you soon!