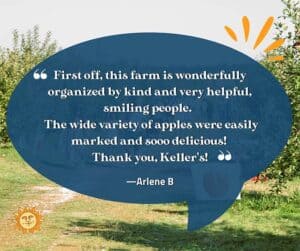 At Keller's Farmstand, we always strive to create an experience that will be fun, festive and fulfilling for everyone! And it is truly wonderful for us to see our efforts appreciated in reviews posted online. Like this one from our customer Arlene, who recently visited the Oswego Farmstand and had this to say:
"First off, this farm is wonderfully organized by kind and very helpful, smiling people. As a Grandma who needed help carrying all of the apples that my young grandson and his friend picked, it took just a moment for lovely Lilly to call John, the orchard manager. John arrived in moments in his golf cart and drove us right to my car – putting the apples right inside for us! He would not even take a tip! So kind.
"The wide variety of apples were easily marked and sooo delicious. Afterward we had our choice of lunch options – again well organized and very clean environment. Then we went to the corn maze, which was awesome for all ages! Then there were farm animals to pet and a huge play area. I have been to many apple farms. This one gets my vote hands down for all of these reasons and because it is a comfy and simple farm plus just enough "entertainment" without going over the top – like some. It was perfect and we will definitely come back again and again. 
"Thank you, Keller's!"
We so appreciate you, Arlene – and look forward to welcoming you back to more fall fun at Keller's Farmstand in Oswego!