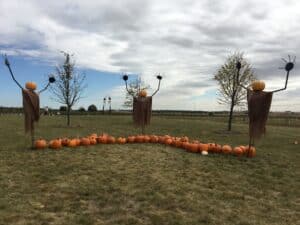 …to enjoy the very best that fall has to offer at Keller's Farmstand!
Our Oswego and Naperville Farmstands will soon close for 2023 – but there's still time for fall family fun!
The final days for our Saturday and Sunday Fall Festivities are October 21 & 22 and October 28 & 29. You can enjoy the Farmland play area (it's unlike any playground you've ever seen!), explore the eight-acre Cryptids-theme corn maze, make beautiful (and slightly funny??) memories with Bigfoot and Mothman photo-ops, check out Noah's Ark, visit our friendly farm animals, and more! Click here for your tickets to fall fun!
The fun continues – with U-pick and prepicked apples and pumpkins at our Oswego location.
Is it too early to help out jolly old St. Nicholas? We don't think so. Our Naperville and Oswego Farmstands are open daily through October 31 so you can shop for all of our NEW goodies and merchandise! Stock up on our Farmstand Scents candles, Farmstand Blend teas and coffees, apple cider donuts (they freeze beautifully!), Keller's Farmstand stickers, and the special edition Keller's Farmstand coloring book.
Make your list, check it twice…and enjoy Keller's Farmstand in Oswego AND Naperville through October 31* (*October 31 hours at Oswego & Naperville are 10am-2pm).
See you soon!