How to Live Apple-y Ever After (especially when we are closing for the season on Tuesday, October 31 at 2:00 pm)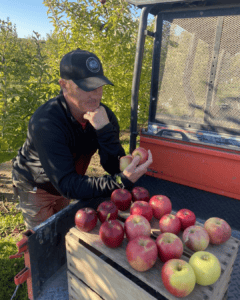 In world mythos, apples are often associated with magic, gifts of knowledge, and even paradise.
Well, we don't know about magic or gifts of knowledge, but we think our apple orchard comes close to paradise…especially when we're having an end-of-season U-PICK APPLE PICKING SALE! Mother Nature has blessed us with an abundance of late-season apples this year – and we want to make sure that everyone can enjoy our delicious apples!
Starting Friday, October 27: Purchase a 1/4, 1/2, or 1-peck bag at Keller's for only $10! Stock up on delicious apples from our orchard – perfect for applesauce, apple pies, and Grandma Keller's Apple Kuchen!
You can pick Fuji, Evercrisp, Ludacrisp, Pink Lady, Rome, Suncrisp and other varieties!
And, there's an even better reason than our end-of-season U-Pick Apple Sale to stock up on our apples! Some varieties of apples can last for weeks. Pick a peck (or two or ten) of apples and ask our experts for tips on storing apples!
The U-Pick Apple Sale takes place Friday, October 27, through Tuesday, October 31. What are you waiting for? Come by today!
Please note – There is a separate fee for apple picking. EVERYONE ages 5 and up must purchase an apple bag to enter our apple orchard. Please visit the Apple Barn before heading to the orchard for our end-of-season U-PICK APPLE PICKING SALE – ONLY $10 for a 1/4, 1/2, or 1-peck bag! Doesn't apply to previous purchases, while apple supply and bag supply last.