Keller's Pumpkin Honey Bun Cake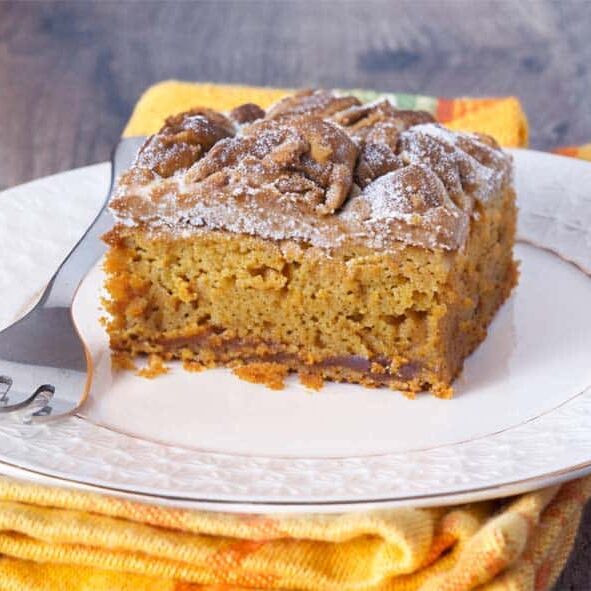 Are pumpkins the only thing you like about the fall season? Then this yummy pumpkin cake (courtesy of Chef Kellie) is for you!
For the Cake Batter
1 box super moist yellow cake mix
½ cup vegetable oil
4 eggs
½ cup sour cream
¾ cup canned pumpkin (not pumpkin pie mix)
2 ½ teaspoons pumpkin pie spice
¾ cups brown sugar
½ cup chopped walnuts
For the Glaze
1 cup powdered sugar
2 tablespoons milk
1 teaspoon vanilla
Grease the bottom and sides of a 13×9 inch baking pan.
Place the cake mix, oil, eggs, sour cream, pumpkin and pumpkin pie spice in a large bowl.
Beat with an electronic mixer on medium speed about 2 minutes until ingredients are just incorporated.

 
Measure out 2 cups of batter, place the batter onto the bottom of your prepared pan.
In a small bowl combine the walnuts with the brown sugar. Toss to combine.

 
Sprinkle evenly over the cake batter.

 
Spoon the remaining batter evenly over the filling.

 
Using a spatula, carefully spread batter over the filling to the edges of the pan.

 
Place in the oven and bake about 30 – 40 minutes or until a toothpick inserted comes out clean.

 
Remove the pan to a cooling rack.