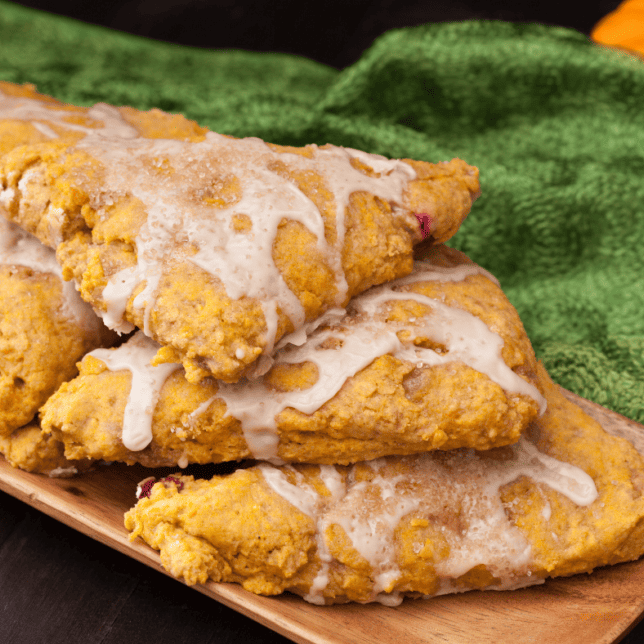 Do you like anything pumpkin? Then try these yummy scones – you'll love Keller's Pumpkin Scones, courtesy of Chef Kellie!
2 ¼ cups flour
¾ cup white sugar
2 teaspoons baking powder
¾ cup canned pumpkin
1 egg
1 teaspoon cinnamon
½ teaspoon ground cloves
½ teaspoon nutmeg
½ teaspoon pumpkin pie spice
¾ stick of cold All Natural Pumpkin Butter from Keller's
2 tablespoons milk
½ teaspoon salt
CINNAMON SCONES GLAZE
½ cup powdered sugar
¼ teaspoon cinnamon
1 tablespoon milk or heavy cream
Preheat oven to 425 °F and line a cookie sheet with parchment paper.
In a medium mixing bowl, mix together dry ingredients- flour, sugar, baking powder, cinnamon, cloves, nutmeg, pumpkin spice and salt.

 
Add pumpkin butter with a pastry cutter or fork until butter is in small bits and crumbly.
Add wet ingredients – (pumpkin, milk and egg) and blend well into the flour mixture.
Turn out dough onto a floured surface.
Shape dough into a circle. Cut into 8 pie pieces using a knife or pizza cutter.
Bake on a prepared baking sheet – 13-15 minutes, or until light golden brown.
Cool before adding glaze.
CINNAMON SCONES GLAZE
Mix thoroughly in a small bowl until desired consistency. Add more sugar to make it thicker or a little more milk to make it thinner.