Keller's Pumpkin Pie Crisp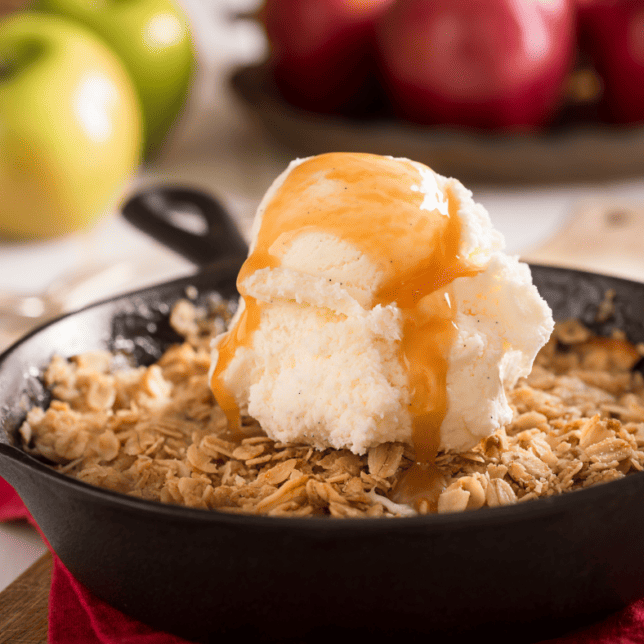 Feeling creative in the kitchen? Try our Pumpkin Pie Crisp, courtesy of Chef Kellie!
Pumpkin Filling
1 (15-oz.) canned pumpkin purée
1 cup sugar
3 large eggs
2 teaspoons pumpkin pie spice
½ teaspoon salt
2 teaspoons pure vanilla extract
²⁄3 cup heavy cream
Cinnamon Streusel
2 cups all-purpose flour*
1 ½ cups sugar

 

2 teaspoons cinnamon
½ teaspoon salt
12 tablespoons unsalted Keller's Pumpkin Butter, melted

 
Preheat oven to 375 °F. Butter a 12-inch cast iron skillet or a medium casserole dish. Set aside.
In a large mixing bowl, whisk together pumpkin, sugar, eggs, pumpkin pie spice, salt, and vanilla extract. Whisk in heavy cream until smooth. Pour into prepared skillet and set aside.
In a medium mixing bowl, whisk together flour, sugar, cinnamon, and salt. Add melted butter and stir with a fork until crumbly. (Can also beat with a hand mixer until crumbly if needed.)

 
Spread cinnamon streusel topping on top of pumpkin pie mixture in an even layer.
Bake until filling is set and top is golden brown, 40 to 45 minutes.
Let cool for 10 minutes, then serve warm topped with Vanilla Ice Cream.