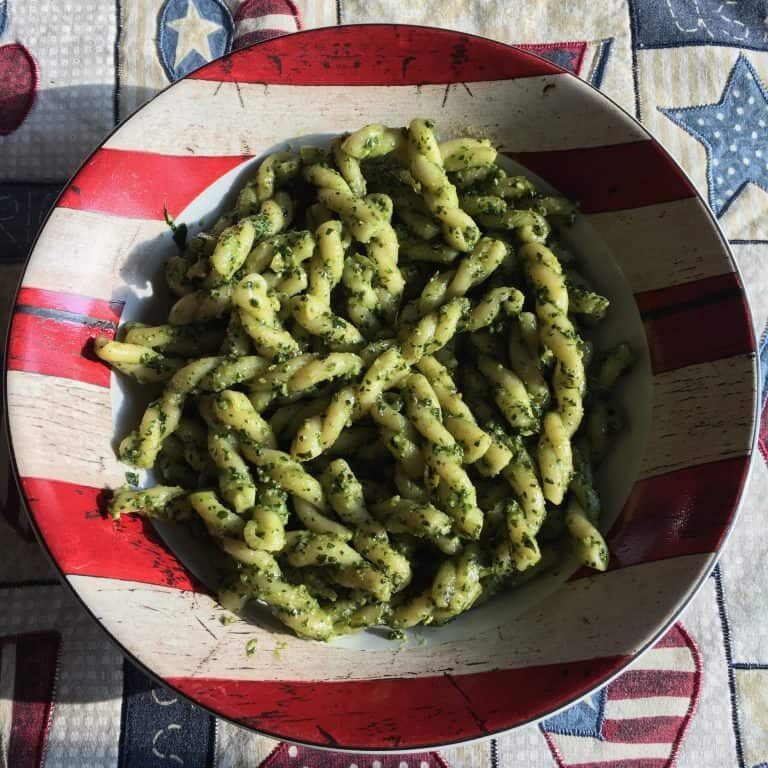 Did you buy a basil plant from us and now have LOTS of fresh basil? Try this pesto recipe. It's a great way to use that basil you've been nurturing since spring!
3 garlic cloves, unpeeled
2 cups packed fresh basil
½ cup extra-virgin olive oil
¼ cup pine nuts, almonds, or walnuts, toasted (We like using pine nuts!)
¼ cup grated Parmesan cheese
2 Tablespoons fresh parsley
Salt and pepper
1 pound prepared pasta, reserving 1/4 cup of cooking water
Toast the garlic in a skillet over medium heat, shaking the pan occasionally, until fragrant and spotty brown, about 7 minutes. Transfer the garlic to a plate and allow it to cool before peeling.
Process the peeled garlic, basil, oil, nuts, Parmesan, and parsley in a blender or food processor until smooth. Season with salt and pepper to taste.
When tossing pesto with pasta, add some of the pasta cooking water as needed to loosen the consistency of the pesto. Makes about 3/4 cup which is enough to sauce 1 pound of pasta.
*Pesto will keep in the refrigerator, stored in an airtight container, for up to 3 days, or in the freezer for up to 3 months.